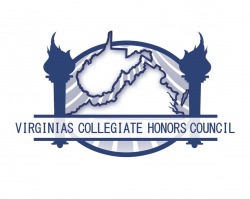 ---
AWARDS & SCHOLARSHIPS
Each member institution may nominate one Honors student for each of the following awards. The process by which your institution adopts to identify your nominee is entirely at your discretion.
Applications for both awards will be accepted from January 1 - January 31, 2017.

Award recipients will receive registration and lodging at the VCHC spring meeting courtesy of the VCHC, a $500 cash award, and their narrative may be published in a future edition of the Proceedings of the Virginias Collegiate Honors Council. The recipient will also have the opportunity to give a formal address based upon their application essay as part of the Annual Spring Conference of VCHC. This presentation will allow the student to receive further recognition and to speak about being a part of an Honors community and what it has meant to them.

---
VCHC Emerging Honors Scholar of the Year

The Virginias Collegiate Honors Council (VCHC) is pleased to offer a
new
category for the VCHC Honors Scholar of the Year award,
specifically designed for our best and brightest emerging Honors students who have completed 50* or fewer credits at a post-secondary institution
! This award serves to recognize a student from a member institution who has shown extraordinary potential as an
emerging
scholar, and who embodies the scholarship, character, and ambition associated historically with honors students and the VCHC.
The nominees for 2017 were:
Sherry Ampuero
, Northern Virginia Community College Major: Psychology
"Underneath the free-spirited, easygoing persona is a student who is fiercely intelligent. She is inquisitive, thoughtful, expressive, and creative in all of her Honors courses, and the unique, unconstrained, yet deeply insightful thinking that she brings to the classroom is always a welcome surprise to her professors."
Jacklyn Cheely
, Virginia Wesleyan College Majors: Sociology & Philosophy
"Jacklyn clearly is a scholar-athlete who is not only enthusiastic about her own learning, but shares that joy and zeal as an orientation leader and peer advisor mentoring freshmen. She has buoyant energy, and that goes throughout her work. She simply enjoys her coursework. She engages the reading fully and comes to class ready to share and be an active part of the classroom."
Anne Marie Kluempen
, University of Mary Washington Major: Undeclared
"Anne Marie is an excellent Honors Scholar, an exemplary student of the liberal arts, and very active in campus life. Anne Marie is interested in sociology, linguistics, psychology and/or anthropology. In addition to her diverse interests in the humanities, she also plans to study abroad to expand her cultural and worldly views [and is] dedicated to social activism and issues of justice and diversity."
Mary Metzger
, Virginia Commonwealth University Major: Communication Arts
"Mary is such an exceptionally motivated, self-driven, mature, and intelligent student. Mary is a creative and strong mentor. Mary is INVOLVED and makes a positive impact wherever she goes. Mary's love of learning and her strong leadership abilities make her an asset to our Honors College and to the larger Honors community in Virginia."
Katherine Meyers
, Emory & Henry College Major: Civic Innovation
"Katherine [is a] brilliant, self-confident, inspiring leader. If Honors education does anything worthwhile, it gives young people who already have all the talents they need the confidence to know that they can, and will, accomplish great things. Katherine certainly illustrates that principle, and I am well-prepared to be awed by what she will do in her personal and professional life."
Nina Schenk
, James Madison University Major: Anthropology
"Nina has so much promise for a wonderful future. With the right experiences, her options are truly unlimited. She exhibits high personal and professional standards, and is a positive role model to others. Regarding her abilities in and out of the classroom, Nina is a cut above. She has a roving intellect, and is willing to engage thoughtfully in solving all sorts of problems."
Robyn Toran
, Radford University Major: Athletic Training
"Robyn has talent and drive like few other students who have ever gone through our program. Her grades speak for themselves and her involvement on campus has been unparalleled for a sophomore. She has held leadership positions and has been invited to participate at the highest levels of university decision-making."
---
Emerging Honors Scholar of the Year Award Recipients
2017
Robyn Toran, Radford University
Major: Athletic Training

Application excerpt: "Robyn has talent and drive like few other students who have ever gone through our program. Her grades speak for themselves and her involvement on campus has been unparalleled for a sophomore. She has held leadership positions and has been invited to participate at the highest levels of university decision-making."

---
VCHC Honors Scholar of the Year

The Honors Scholar of the Year is awarded to a student from a member institution that successfully embodies the scholarship, character, and ambition associated historically with honors students and the VCHC.

The nominees in 2017 were:
Elizabeth Brannon, James Madison University Major: International Affairs
"[Lizzie] is an extraordinary student and a determined human being. Lizzie has expanded her understanding of the world and global citizenship through university courses and other travel opportunities. She is the founder of MADtalks, a regular speaker series in the Honors College. [She is an] extraordinary young woman who will contribute so much to the future of our republic."

Gopika Hari, Virginia Commonwealth University Major: Biology
"As you can see from this somewhat breathless (but by no means wholly inclusive) list, during most of her waking moments, Gopika dedicates herself to both scholarship and service. Gopika engages everything with a high level of grace, good humor, compassion, and focus. She is one of our finest students."

Hannah Kass, University of Mary Washington Major: Biochemistry
"In addition to her strong academic performance in the Honors Program, Hannah serves as the Chair of the UMW Honors Scholar Advisory Board and has attended VA Collegiate Honors Council meetings twice. Hannah has been actively engaged in undergraduate research, co‐curricular events, and service learning. Hannah is academically strong and demonstrates commitment to community service and leadership."

Kelly Kramer, Liberty University Major: English
"Kelly is well prepared to attend a graduate school of her choice after she completes her undergraduate education at the conclusion of our spring semester in May. She has presented papers at national conferences for the Sigma Tau Delta English Honors Society, and serves [as] an officer in Liberty's chapter of Sigma Tau Delta."

Robert Alexander McComb, Virginia Wesleyan College Major: Political Science
"Alex is dedicated to service both locally and globally. He has been involved on campus from his first semester and earned leadership positions from very early on in his undergraduate career. In his classes, he reaches out to students who are feeling isolated and purposefully includes them in discussions and simulations. Alex is open-minded and thoughtful, a good communicator, logical, thoughtful and analytical, committed to learning, dedicated to service, and appreciative of differences."

Sieu Tran, Virginia Tech Majors: Mathematics & Microbiology
"Sieu embodies the challenge we put forth to student[s] in Honors. His interdisciplinary research has real world applications and connects to the health of individuals and society. Sieu is resilient and he is poised to flourish in his future graduate studies [...] As a Fulbright finalist to Hungary for mathematics, to a variety of graduate programs in math or biomedical studies here in the United States."

Annaliess Trommatter, Northern Virginia Community College Major: General Studies
"Overall, I think what stands out most with Annaliess is how "balanced" she is, for she excels both academically and as a campus and community leader. Annaliess values all of those responsibilities and experiences as important during her tenure at NOVA and in the Honors Program. Her commitment to Honors and the time she spends giving back to NOVA and her community is remarkable, considering her perfect GPA and the fact that she is a full-time Mom to two children."

Courtney Ward, Radford University Major: Marketing
"In many ways, Courtney is not the typical honors student, but her honors experience has been just as meaningful for her (if not more so). One would not instantly peg her as an honors student, which is one reason why I am so happy that she has been a part of our program. It often seems that the social requirements of Greek life and the academic responsibilities of honors life do not mix. But Courtney has defied those stereotypes, thus making both honors and her sorority better with her presence."

---
Honors Scholar of the Year Award Recipients

2017
Sieu Tran, Virginia Tech
Majors: Mathematics & Microbiology

Application Excerpt: "Sieu embodies the challenge we put forth to student[s] in Honors. His interdisciplinary research has real world applications and connects to the health of individuals and society. Sieu is resilient and he is poised to flourish in his future graduate studies [...] As a Fulbright finalist to Hungary for mathematics, to a variety of graduate programs in math or biomedical studies here in the United States."


2016 Laken Brooks, Emory & Henry College
2015 Katherine Bordwine, Emory & Henry College
2014 Spencer Beall, Sweet Briar College